We asked our Health Chefs to send us their favorite meals to make. The Hearts of Palm Quinoa Salad with Lime Vinaigrette is Chef's Dayla favorite recipe. Here is what she had to say about it.
This recipe and I go way back, to the beginning of quarantine when I was stuck in my apartment for Passover, with my roommate and her current fiancé… It was one of the best holidays ever!
Making it is quite simple and barely requires any effort.
First off, prep the quinoa!
I like to use a 1 cup quinoa to 1 ¾ cup water ratio when cooking the quinoa so that it comes out nice & fluffy without any stickiness. If you use too much water, the quinoa will end up mushy.
When it comes to during the year, I love using Bob's Red Mill Quinoa because it's certified gluten-free & always comes out with the perfect texture. Though, when it comes to Passover, I"ll opt for a kosher-for-Passover certified Quinoa brand.
Next, add all the vegetables & cooked quinoa to a large mixing bowl.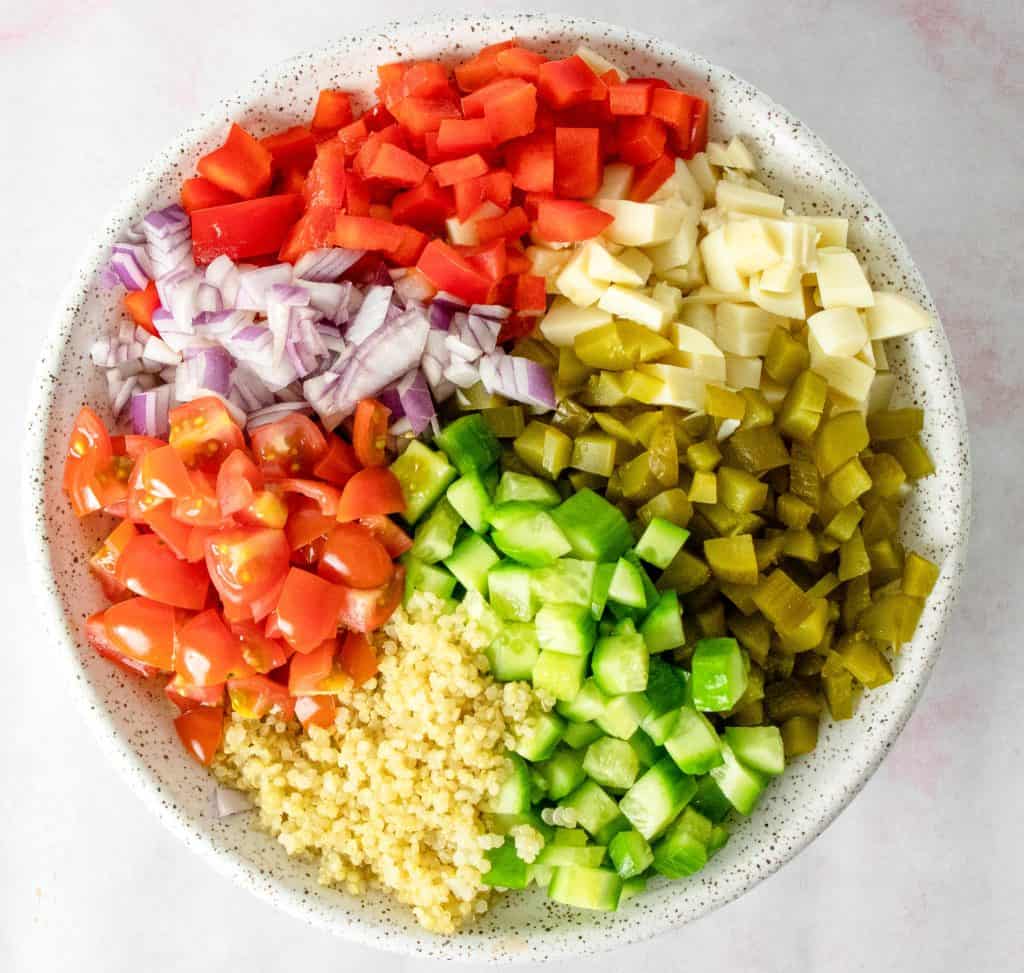 Mix the dressing in a container or glass cup & pour it over the salad.
The key to making the perfect dressing is mincing the garlic so well that it becomes like a paste. If you don't feel confident with your chopping skills, feel free to pulse the garlic in a food processor or use a garlic crusher.
Finally, mix it up!
Carefully mix the salad together, lightly, so as not to make the quinoa or vegetables mushy. Taste the salad to see if you'd like any additional seasoning before serving.
Here are the ingredients that you'll need:
1 cup raw quinoa
1 ¾ cup of water
½ can Hearts of Palm diced
4 Israeli Pickles in Brine diced
1 small cucumber or ½ large cucumber diced
10 cherry tomatoes quartered
¼ red onion diced
2 garlic cloves minced
½ red pepper diced
3 tablespoons olive oil
Juice of 2 limes
1 ½ teaspoon of apple cider vinegar
Sea salt
Ground black pepper
How to make:
In a medium sauce pot, bring 1 ¾ cup of water to a boil with ¼ teaspoon of salt.
Once the water boils, add the raw quinoa and mix. Bring to a boil and lower the heat to a simmer. Cover the pan and cook for 20 minutes.
After 20 minutes, turn off the heat, and allow the quinoa to sit (covered) for 5 minutes, before uncovering and fluffing.
In a large bowl, combine the diced hearts of palm, pickles, tomatoes, onion garlic, and red pepper. Mix in the cooled quinoa & set aside.
To make the dressing, combine the olive oil, lime juice, apple cider vinegar, sea salt & black pepper in a bowl and whisk together.
Pour over the quinoa and mix together. Add any more seasoning you may like & enjoy!
Want to learn more about Chef Dalya? Check out her bio